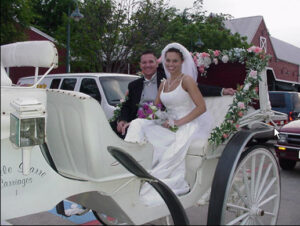 Imagine yourself as the happy couple in the picture. Make the wedding of your dreams come true with style and grace with an arrival or departure in one of our custom decorated horse drawn carriages.
We offer a variety of services all tailored to your needs. We can even have flowers or a picnic basket delivered to your carriage. Enjoy our outdoor sound system to provide the perfect sound track for your event. Wedding & Engagement rides, Proms, Parades, and Tours of downtown Dallas, will all have that special touch that makes memories when you are on our carriages.
We are located just north of Dallas TX and provide service to all of north/central Texas, offering special rates and packages Sunday thru Friday. Planning your event with this in mind will get you twice the time at about half the cost…
Our drivers are picked for their level of expertise and experience ranging from Dressage and driving competition, some at National level, to Paramutual harness driving. Our horses are among the best in the country in training and accomplishments, including a former National Grand Champion Draft Shire and even a horse that will take your carriage into the ballroom of a hotel. These elements and more combine to make our safety record unsurpassed, and your ride on our carriages a truely memorable experience. We also offer driver and horse training.


CHOOSING YOUR CARRIAGE
This is your event! Ask questions about the service, the equipment, insurance and licenses etc.. Do they provide decorations, if so, can you choose colors or styles? Will the driver be dressed appropriately for your occasion? Can you view the carriages and horses? Do they have any special offers? Possibly most important, can or will they supply you with recommendations and their safety record.
REMEMBER
SHOP FOR PROFESSIONALISM BEFORE PRICE. We have never heard of anyone complain that they paid too much for a good job, but you can be sure that a poor quality service provider is too expensive at any price.
Style and presentation are the hallmark of any event. When combined with our unsurpassed safety record and years of experience you will see why we are the obvious choice for your next event.