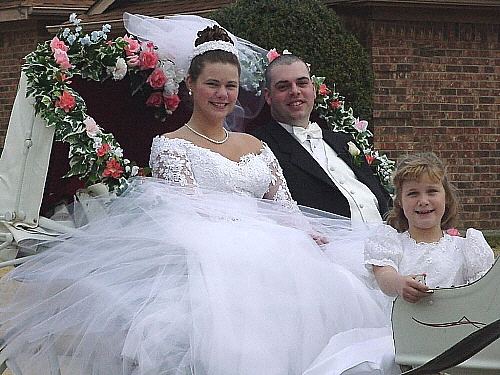 OLD WORLD ELEGANCE
Its popular today to "Just do it". We believe you should "DO IT RIGHT". You have gone to all the trouble to make your event the best. Now make it memorable! This should be the most important and happiest day of your life. Don't leave the details to chance, from our liveried drivers to the most pampered show horses our turnout is to showcase you. Relax and enjoy the romance of a horse-drawn carriage ride. We have many interesting ways to provide Grand Entrances, Grand Exits, photographic opportunities, and transportation to receptions. Weddings are our Specialty!
Picture yourself seated in the crushed velvet interior surrounded by a floral garland, Cinderella lights twinkling, flowers and decorations all color coordinated for your event. You will indeed make a grand entrance or departure in this carriage pulled by one of our English Shire horses. When you've got it, flaunt it, and you will…. in a BELLE STARRE CARRIAGE!
We travel to most any location, and offer a variety of styles, colors, and services to enhance your event, from Top hats to Stetsons we add a special touch to all, and our prices are competitive and affordable.. We've been told that cost is soon forgotten, but quality makes memories that last forever!
We have included some photos on these pages. We have more to show in our Wedding Book of Memories, including references and Thank You notes from some of our happy couples. We hope to add you to our gallery of special moments.
We are always happy to assist your planning with recommendations of photographers, florists or other related services.